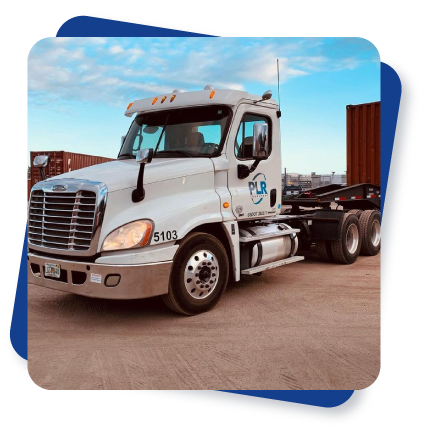 Intermodal drayage is the trucking of shipping containers among various forms of transportation. It is a critical link in the intermodal supply chain. At PLR Transport, our intermodal drayage services are a cut above the rest. In fact, intermodal is what we're known for.
Intermodal drayage provides many benefits over traditional trucking. Here are some of the advantages it offers:
Intermodal drayage provides a cost-effective alternative since containers arrive at destinations faster, reducing the need for long-term storage. Especially if you are transporting loads over short distances, going intermodal can save you a lot of money.
By working with a 3PL that uses a TMS to track loads, you can rest assured that your goods are safe, secure, and headed to the right place at the right time. Without these resources, you run the risk of losing track of loads.
By using multiple modes of transportation, intermodal drayage gives you more options to get your shipment to its destination. Intermodal is also adaptable. If there are any changes, this method provides options to find the right solution.
If you're interested in reducing your carbon footprint, intermodal drayage is the way to go. Intermodal drayage uses modern equipment with diesel exhaust fluid (DEF), meaning it is more environmentally friendly than traditional trucking. 
With the flexibility of intermodal drayage, you can choose the best route for your shipment based on your needs. If you're looking for a fast, reliable, and efficient way to transport your shipment, intermodal drayage is the right choice. Contact PLR Transport today to learn more about our services.
Why Choose PLR Transport for Your Intermodal Drayage Needs?
Aside from being the leading intermodal drayage provider in the Southeast, here are some other reasons to choose PLR Transport for your shipping needs:
If you've ever worked with a transportation company, you know how critical it is to have a steady flow of communication. We train our staff to communicate efficiently with our clients so they always know the status of their deliveries. There are no surprises when you work with PLR.
We understand the importance of keeping your supply chain running smoothly and efficiently. That's why we pride ourselves on our on-time pickups and deliveries every time.
Our company has been in business for 35 years. In that time, we have witnessed all the advancements in the transportation industry. Today, we use cutting-edge technology and current best practices to make your transportation experience as seamless as possible.
We specialize in hauling overweight loads, refrigerated cargo, and special equipment. No matter what you're shipping, we'll handle it with care.
Our fleet consists of conventional sleeper and day cab trucks. We have a wide variety of equipment to accommodate your shipping needs, including 20', 20' triaxle, 40', 40' underslung genset chassis, and 45' chassis. 
An underslung genset is beneficial for loads that need to be continuously chilled. It is a generator that goes underneath each chassis that provides power to the container, allowing it to keep the contents cold. 
We offer competitive rates that are backed by our quality service. Request a free quote at [email protected].
Ready to work with the leading intermodal drayage provider? Contact PLR Transport today.
Do you want us to contact you for