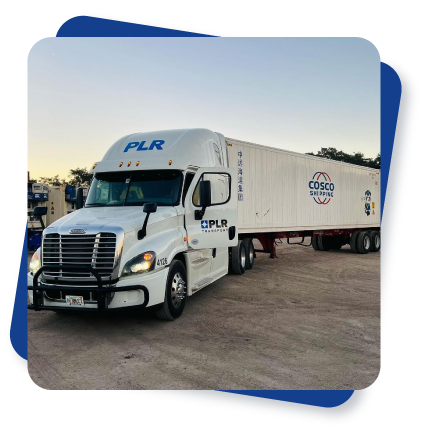 PLR Transport offers dedicated trucking services for those who need a reliable, fully customized shipping solution. We have a fleet of trucks that are ready to handle your trucking needs, whether you're going across town or across the country.
Dedicated trucking has many benefits, including:
Dedicated trucking helps your brand shine with excellent transportation. Even if your business provides stellar service across the board, you need a transportation partner that can match your level of professionalism. 
You can feel confident in associating your brand name with our top-tier customer service. Our experts at PLR Transport will represent your company with care.
When you use dedicated trucking, you can count on your shipments being delivered on time, every time. This is because you're the only customer using that truck, so the driver can focus on getting your shipment to its destination on schedule.
You can expect the same level of service every time you ship. When you use the same truck and driver each time, you know exactly what to expect in terms of service.
Dedicated trucking can be customized to meet your specific shipping needs. Whether you need to ship on a regular schedule or you need special accommodations for your shipments, we can work with you to create a solution that meets your needs.
With dedicated trucking, you can save money on shipping costs. 
Why Choose PLR Transport as Your Dedicated Trucking Partner?
When you choose PLR Transport as your dedicated trucking partner, you'll enjoy all of the benefits of dedicated trucking, plus the peace of mind that comes from working with a company that has a proven track record of success.
Here's why you should work with us:
We've been in the shipping business for over 35 years, so we know what it takes to transport your shipment on time, every time. As masters of our craft, we know that customer service, timeliness, and communication are priorities for you—and we deliver on all three of those promises with every load we ship.
You can count on us to be there when you need us. We always deliver on time, so you can rest assured that your shipment will arrive when needed.
We understand that your shipping needs may change from time to time. That's why we offer a variety of shipping options, so you can choose the one that best fits your needs.
Overweight, oversized, reefer… you name it! Our team is trained and certified to handle specialty loads with care. Your shipment is safe with us.
We offer competitive rates, so you can save money on your shipping costs.
Our team is always here to help, so you can rest assured that you'll receive the best customer service possible.
If you're looking for a dedicated trucking solution, PLR Transport can help. We have a fleet of trucks and drivers ready to meet your shipping needs. Contact us today to learn more about our dedicated trucking services.
Do you want us to contact you for