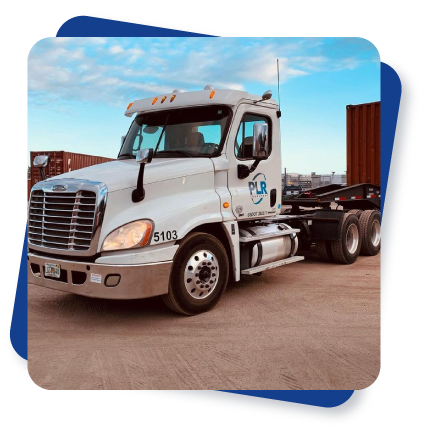 Drayage is a type of freight forwarding service that specializes in the movement of goods over relatively short distances. It involves transporting cargo by truck or trailer, typically across town or within the same state, as opposed to intermodal drayage, a specialized type of drayage that involves moving cargo via different modes of transportation over long distances.
Drayage and intermodal drayage are connected, but there are key differences between the two. Drayage is often used when cargo needs to be quickly delivered to its destination due to time constraints or other urgent circumstances. It is usually a smaller shipment within the larger intermodal system. 
Due to its fast shipping over smaller distances, drayage trucking typically covers the beginning or end of a shipment's journey to its destination. PLR Transport's drayage services guarantee your cargo arrives safely and reliably on time!
Drayage is secure because it eliminates the need to move cargo large distances, which can increase the risk of theft or damage. By having shorter trips, you can be confident that your cargo will be safe.
Drayage often saves money since there are fewer fees from carriers and fuel consumption is reduced. It also offers increased efficiency since shipments take less time to arrive at their destination. You can get your goods faster with reduced costs and improved customer service.
Drayage is typically faster than traditional long-distance shipping because it requires shorter trips. Cargo can arrive at its destination in a shorter time frame.
Drayage reduces your fuel consumption because it requires fewer trips than traditional long-distance shipping, resulting in reduced fuel consumption.
Since drayage trips are shorter, there is less wear and tear on trucks and other vehicles involved in the process. This reduces air and noise pollution, as well as other environmental impacts associated with traditional long-distance shipping.
Due to its shorter distance requirements, drayage reduces the amount of time cargo spends in transit, meaning it usually arrives at its destination faster than with traditional long-distance shipping.
If your company's operations require greater flexibility, drayage can also be an ideal option because it allows you to move your goods more quickly in response to changing demands or unexpected events. Drayage also requires fewer fees from carriers and less paperwork associated with sending cargo to its destination, which results in a more reliable delivery experience overall.
Contact PLR Transport today to learn more about our services.
Why Choose PLR Transport for Your Intermodal Drayage Needs?
Here are just a few of the benefits you can enjoy when you choose PLR Transport for your drayage needs:
Our staff is trained to maintain a steady line of communication with our clients so they can always stay up-to-date on their deliveries. With PLR, you'll always have peace of mind knowing that your shipment is being taken care of and will arrive on time.
We're committed to making sure that your goods are picked up and delivered on time, every time. With PLR Transport, you can keep your supply chain running efficiently.
We've been a leader in the transportation industry for the past 35 years. By utilizing the latest technologies and best practices, we're always able to provide a seamless experience for our customers.
From overweight loads to refrigerated cargo and special equipment, our team is equipped to handle any shipment with care.
Our fleet of conventional sleeper and day cab trucks can accommodate a range of shipping requirements, including 20', 20' triaxle, 40', and 45' chassis. We also have underslung genset options available for shipments that need continuous cooling power.
When you ship with PLR Transport, you can rest assured that your items are in good hands.
With PLR Transport, you don't have to compromise on quality while still enjoying the competitive rates that come with our superior service. 
Ready to work with the leading drayage provider? Request a free quote today at [email protected].
Do you want us to contact you for